On this forum, I tend to get a little over concerned with the qulaity of the shots I get.
But, sometimes the word quality is defined by "as good as it gets".
These pics and videos are not what I would call "quality" digiscoping photos.
But............. Given the circumstances and the situation, I would say that they are "as good as ity gets". For me at least.
To give you an idea of what we will be looking at, as well as the incredible ability that digiscoping can give you, watch this video.
The video link below is of a Rocky Mountain Big Horn Sheep.
It is about 1,700 yards, or 1,550 meters away. I am looking into the sun, there are lots of heat waves, and there was a lot of haze in the air.
Even with all that working against me, I turned the scope up to 70X, yes I said 70X and shot this video.
The Sheep is directly under the "S" in the word sheep.  It is on the far rock formation, beyond the first ridgeline.
http://www.youtube.com/watch?v=14XURlOSYYA
So, thats what we are dealing with here.
Really long distances, conditions that are far from desireable.
So, lets take a look at a few more videos, and some stills. 
This next video has the sheep in the shaded side of the hill.
This is my worst nightmare.
Me in the sun, the subject in the shade. Long distances, and poor air clarity.
This video is at a distance of about 1100 yards, or 1005 meters.
http://www.youtube.com/watch?v=AN5ylSpfb84
I played a lot with video on this trip. It is something that I really need to work on. My video quality has not been what I want.
Well, I got some practice in yesterday!
http://www.youtube.com/watch?v=qCpoVnV-eIo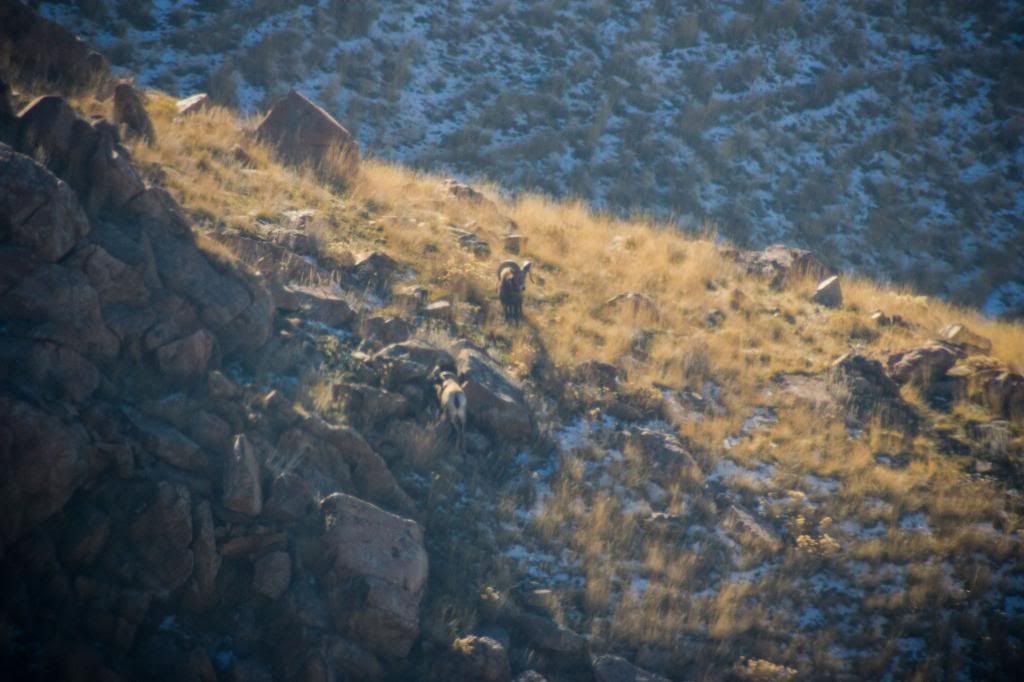 One thing that I have learned is, detail depends on distance. 
If I can get fairly close, I can get good detail. If I can get really close, detail can be awesome! But, if you have to shoot pics from a long, long ways off, you can get an image that captures the subject. And is passable as an enjoyable image to share with others. But the detail is just not there.
This last video is really neat. I almost captured the elusive "head butting".
At the end of the video, the sheep run behind the ridge in front of them.  They are out of sight, and I heard two hits. The sheep had faced off, and rammed their heads together. Full force.
Now that is FRUSTRATING!!!!!!!!!!!!  Watching them play around and posture. Kick each other in the nuts. Push heads. Rub horns. Then move out of sight and actually do the fighting!?!?!
You are killing me man!!!!
This video was about 1400 yards or 1280 meters.
http://www.youtube.com/watch?v=jO3GhLMc010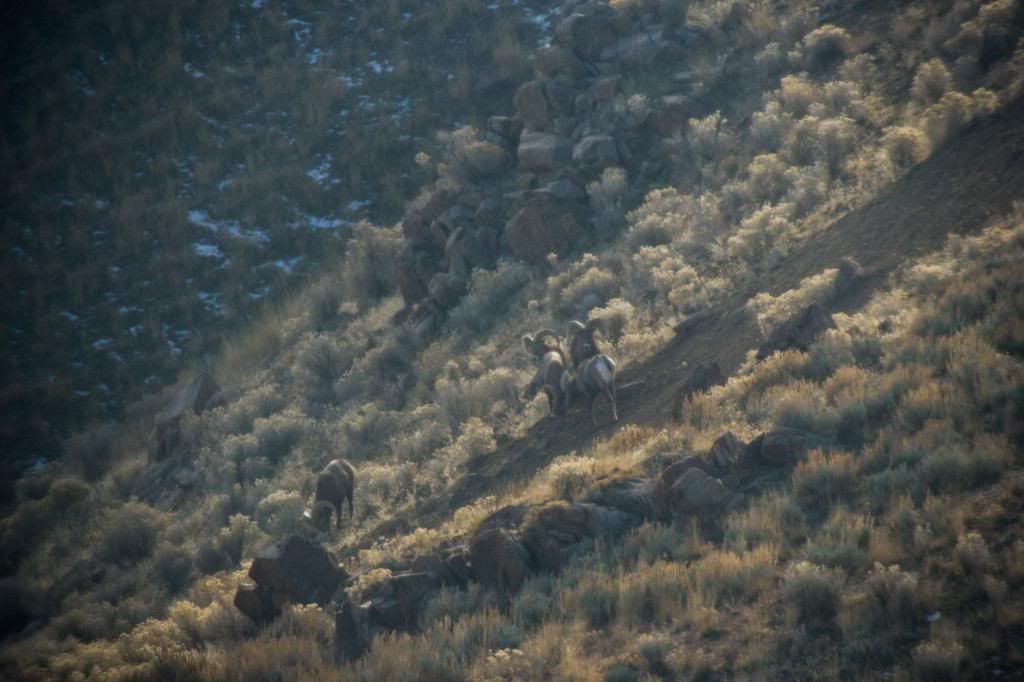 Not my best work.
Not the best conditions, or situation.
But, this is the way I look at it.
If I had my camera, with a 400 mm lens on it, I would have got nothing. Its just too far.
With my scope set to 70X magnification, thats like having a 1800mm camera lens.
I am not overly excited with the images and video that I did get. But considering what I could have got, or would have got, with traditional gear.
I am not leaving my digiscoping gear at home!
My wife and kids, who decided to go ice skating, rather than spend the day hiking up steep, nasty mountains for hours, were glad that I was able to get some images to share with them.
Is digiscoping really worth it? If you are willing to learn how to control your camera, and willing to practice, yes. It realy is. 
Huge thanks to Danny, who has helped me so much. 
I have not even been at this for a year, and while my stuff may not be the best, it would be a lot worse without his help and encouragment.