Well, on the way home from work today I saw a lump in a tree.
Now, if you are an aspiring digiscoper, and you see a lump in a tree, you better investigate. You never know what its gonna be.
I was only about 5 minutes from home, so I continued home, got my spotter and camera, and went back.
It was late in the day so the light was fading fast.
The view from the road was not going to be good. I would be looking directly into the sun.
I pulled over in the area I had spotted the lump. Looked through the binoculars. Owl!
Could have been a porcupine or skunk, or even a racoon, but it was a Great Horned Owl.
Well, this is the view I had.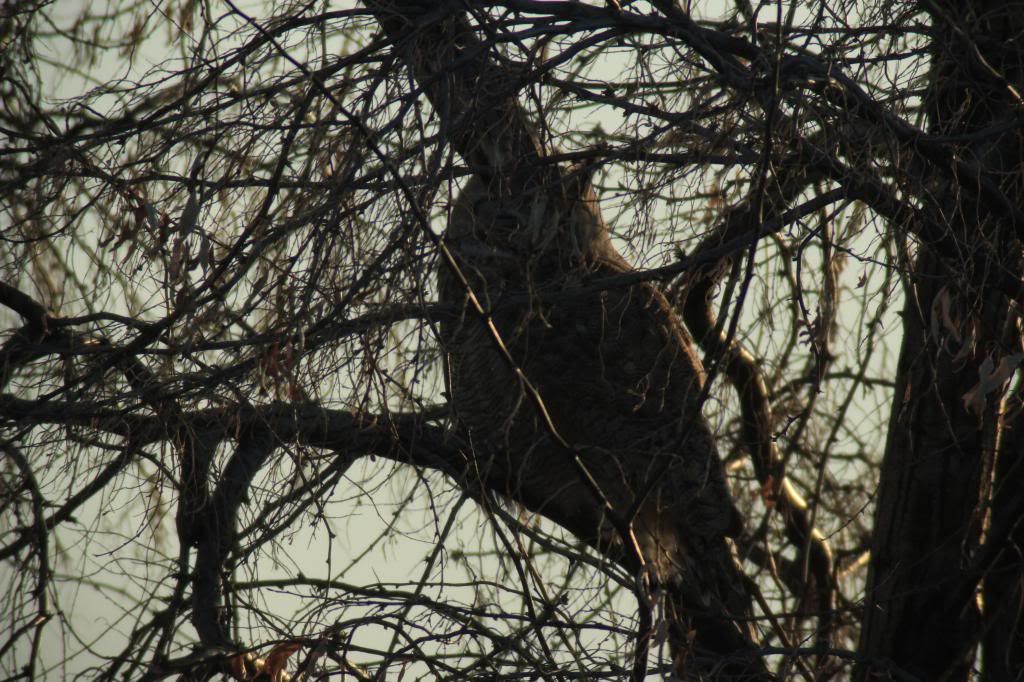 Now, thats not good. I took this photo on 60X magnification off the car window mount.
My ISO setting was 400 and my shutter speed was 1/250
Since it was looking into the sun, all I could see was that it was an owl, and it was all dark due to looking at tyhe shaded side of the bird.
So, I took a few pics, just to make sure I got some.
Then I drove up the road, parked the car, got out and started my walk down to the owl on the sunny side of the bird.
Well, there is a long row of trees, I did not take a good look at the exact tree the owl was in. So, I had to go slow, look around and re locate the owl.
But I found him.
This one was shot on 30X magnifiaction.
I was able to drop my ISO to 200 and my shutter speed up to 1/160.
But, the big factor was obviously getting the sunlight behind me. Getting in closer so that I did not have to use so much magnification helps as well.
I also shot a little video.