ARRRRRGHHHHHHHH!!!!!!!!!
SO FRUSTRATING!
We can not control the conditions we shoot under.
But I have been trying to get some shots of some male, Greater Sage Grouse strutting and showing off for the ladies.
ITS NOT WORKING!!!!!!!!!!
The birds have only been strutting in the early morning, or the late evening. There has been clouds keeping what little light there is away.
This morning there was crazy wind, plus overcast skies, and the birds stopped very early thins morning.
I am having to shoot on very high ISO settings. ISO 6400. 
Combine that ISO noise with 1/25 shutter speeds, and moving birds, all I am getting is garbage!
But, I will be back at it tomorrow.
Digiscoping is tough enough when the birds just move all over the place. Add in adverse conditions, it gets maddening very quickly.
Anyways, I have been able to digiscope, (videoscope) a few short videos of the birds strutting.
Again, very high ISO and the minumum shooting speed is 30. So, I just let the camera shot 30 FPS and adjust the ISO and get what I can get.
http://www.youtube.com/watch?v=MzmTKDO9KJE
http://www.youtube.com/watch?v=vTgRH0LLNh4
http://www.youtube.com/watch?v=JLXrxDObYKQ
You may have to set the quality settings up to 1080p on the player to get the full quality.
I have not had a single day with the sun up yet. Maybee tomorrow.
Now, to some other stuff.
Its been a year since I started digiscoping.
I went out the other day to "re-take" one of the first images I digiscoped last year.
Just to measure my performance improvement.
So, I found some burrowing owls that were nesting in the exact same spot as the year before.
I digiscoped them and now we get to see the difference.
So, this is the photo from last year. One of my early digiscoping images.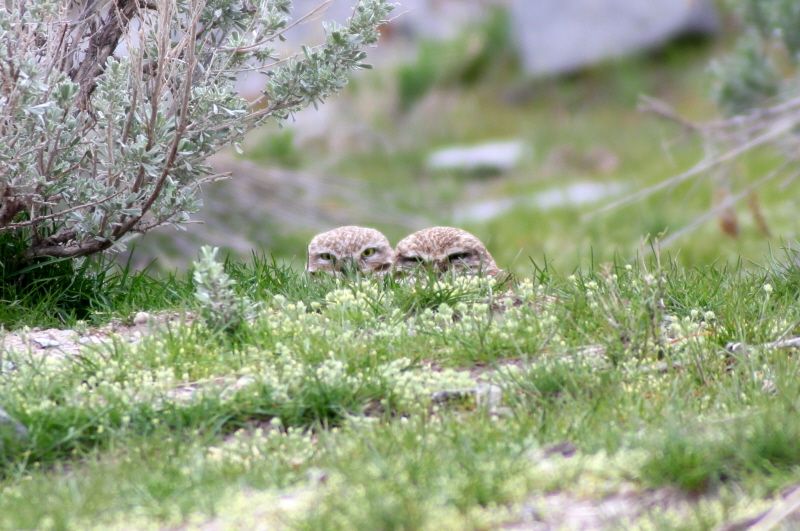 So, one year later, and a ton of shutter clicks.............
Not an incredible difference, but the pics are more pleasant to look at.
Mostly I have gained more control over exposure.
I shot this next pic, the same day as the above pic, but on 70X magnification.
So, I have also gained more control at higher magnifications.
I know that I still have a lot to learn and can improve all over the place.
Its been an interesting journey.