Every now and then, you are sitting in wait, and then magic happens.
Light is right, distance is acceptable, atmospheric distortion seems non existent, and you get the settings good enough to capture the instant.
I put my boots on Sunday morning. Climbed the mountain into Goat country.
The most inhospitable place I find myself.
Steep, rocky, and ugly enough that I always have the entire place to myself.
After about an hour and a half climb up the mountain, I got into some goats. About 20 - 25 of them.
For the next several hours I digiscoped them as the sun came up and warmed their white hides.
I was shooting some video of a goat with a broken leg, very sad,( https://www.youtube.com/watch?v=cLYxoxlQUmo  ) when I looked to my right and saw this!  ( Broken leg goat was about 800 yards - 731 meters, right below the top of the highest point on the hill.)
This Nanny was standing on a razors edge, about 700 feet, (213 meters) up a rock spine.
The sun was BLASTING its hair.
I freaked out and frantically switched my setting from video to photo. Then rushed through my settings trying to get the image right before the goat dissapeared off the edge.
I got 4 quick pics as fast as I could, then the goat was gone. Almost missed the entire thing.
Danny, PRACTICE MADE ALL THE DIFFERENCE. Without tons of practice, I would have fumbled the settings, taken too long, or got unusable shots.
Settings were White balance set to daylight. ISO 200. Shutter speed 1/200 Scope on 45X magnification.
It just kept happening.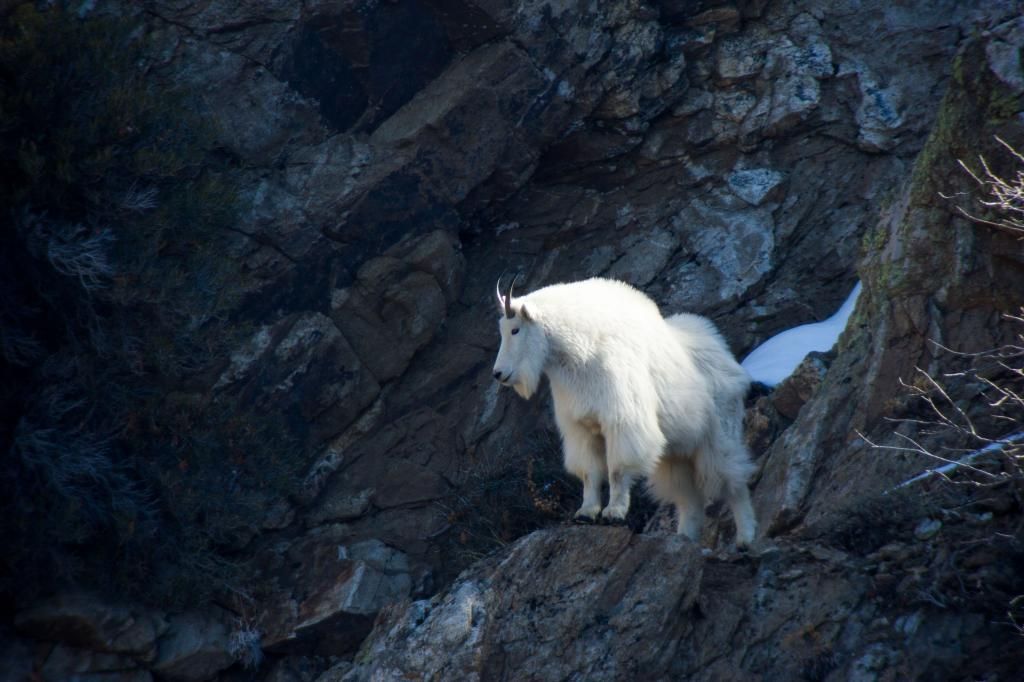 Settings on that one were, White balance daylight. ISO 200. Shutter 1/80. Scope 40X
I even found a goat with a funnly little horn configuartion. Dont often see that.
Settings for that one were. Daylight. ISO 200. Shutter 1/80. Scope 50X