I have not been doing a lot of digiscoping. 
I guess I had a lot more passion for it when I was learning, progressing, and seeing improvment.
I may have become satisfied with my ability and lost some steam.
But then this happens.
I was out trying to digiscope some bull elk and had a nice, large, male come out into the open. 
This is the quality level I achieved.
Dissapointed with my ability to get on target, focused, exposed, and ready to capture the image before the elk walked back into the trees, I realized that once again, I am slow. 
I have gotten rusty.
I want my skills to be fast, sharp, and ready to go at any moment. But not taking the time to digiscope at every opportunity, I find that my ability and efficiency drop off.
So, I headed back out to give my skills a tune up.
I spent 4 hours with this ram. 
I digiscoped him 107 times in those 4 hours.
Tweaking things, working on focus, playing with lighting, working with exposure.
About half way through, I was getting better.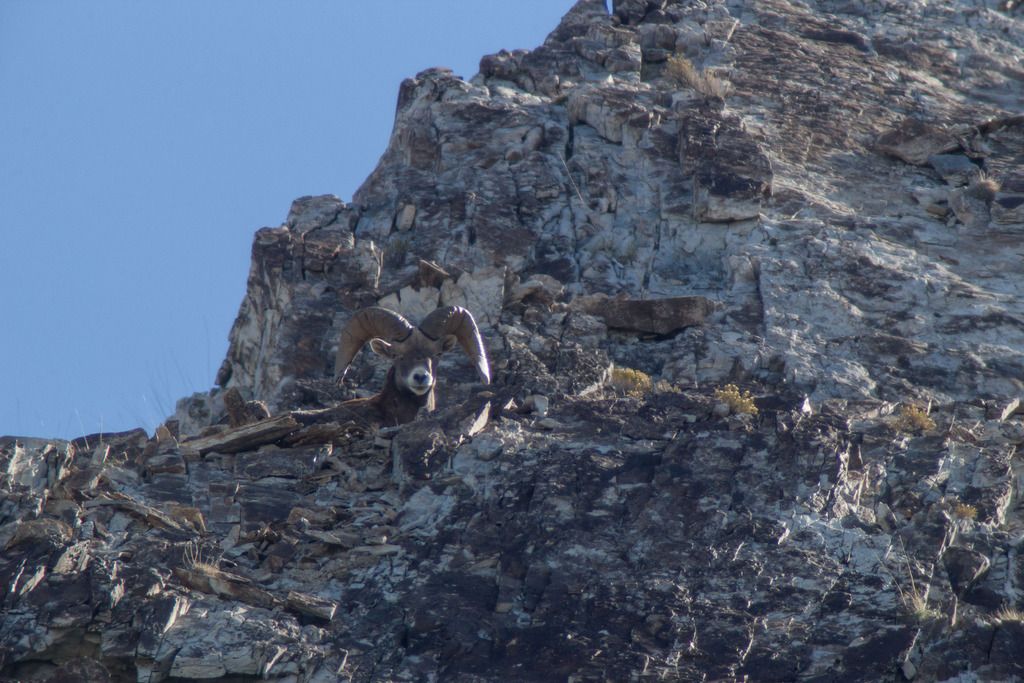 Still not satisfied that this is all that can be achieved, I kept going. 
The terrain is steep, loose, rocky, and not fun to climb. 
I was very tired, worn out, my lungs ready to explode on several occasions. 
But, after many shutter clicks, many miles, many adjustments, and a lot of focus and re focus practice, I finally got some images that I was satisfied with.
This one ended up being my favorite.
Initially I did not like it. The grass in his face, between us. I thought it ruined the shot.
Seconds after this shot, he moved to the left and I got clear, beautiful shots of him, but after I got home and looked at them, I really liked the way this image turned out. The grass adds a unique element.
The soft, empty background in those colors, the sharp focus being blurred by the grass, then going back to sharp. 
It just worked out well. 
This may very well be my favorite photograph that I have ever digiscoped.
If I had kept my skills in tune, I may not have had to spend 4 hours with one subject in order to get that image.
There are two lessons to be learned here.
Lesson 1, try to digiscope often. 
Lesson 2, Patience and effort lead to rewarding photos.
Too many times I snap a couple quick photos and move on. Spending some real time and effort trying to get better shots can end well.