I decided to get up early this morning. 
I needed to get a big head start on the sun. It takes a while to get all the way to the top of the mountains around here.
I wanted to do some true "long distance" digiscoping.
Also, I wanted to test my gear out on something a little bigger in size. Something difficult to get close to.
Sorry for the low quality of this next pic. Its for perspective only.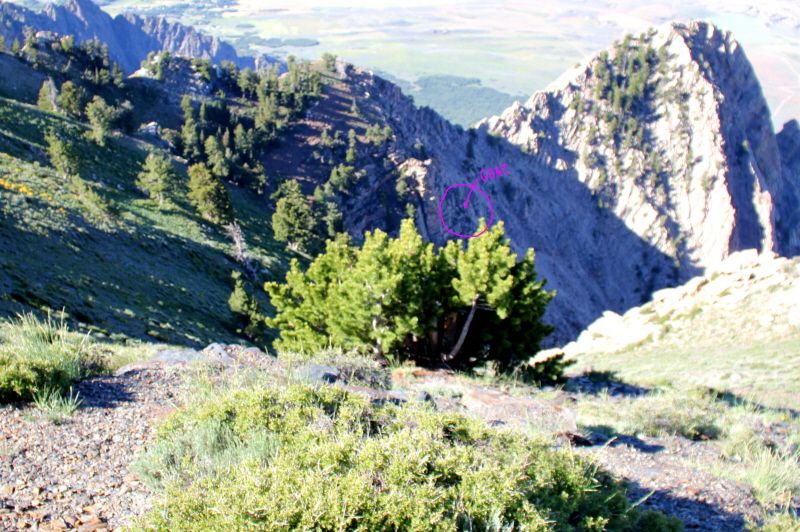 So, I am standing here. taking this picture of the view that I have.
I used my binoculars to find a mountain goat on the far hillside.
As you can see, inside the center of the pink circle, there is a small patch of green brush.
I loaded the TLS APO onto the ATX 95 and took this picture from the same distance.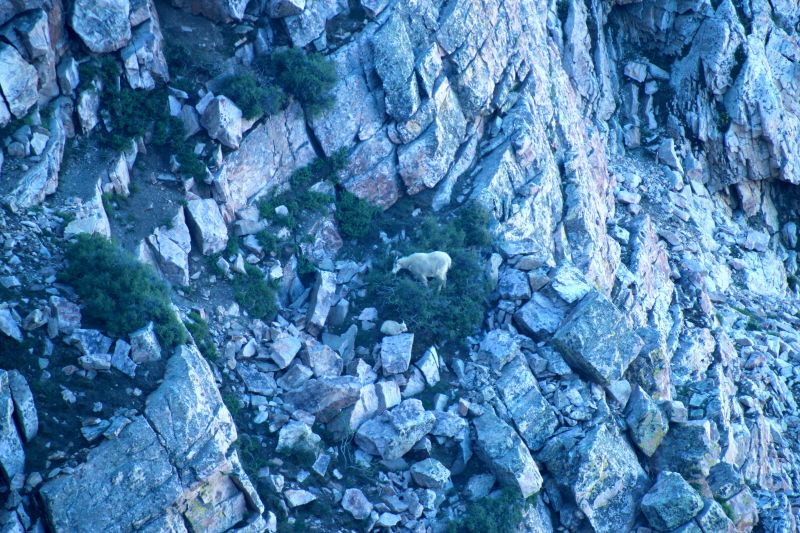 ISO 400 shutter 1/100
Now, its not the best quality photograph. I have digiscoped better, but come on!  There is a lot of open ground between us.
That goat is standing in the shadows, and you can get a clear view of what that is a picture of. 
That image has not been cropped. That is full size, as taken by the TLS APO.
 HOLY CRAP!!!!!!!!
I just now noticed something! Awesome!!!!!!! 
Look just below the goat in the brush!!!! That is a baby mountain goat!!!!!!!!!!
I didn't even notice it when I was out there in the field. 
DANG! I hate it when I find out that I had a rare opportunity and missed it! 
Ok, maybe I didn't miss it completely. I did get that picture.
ISO 400 shutter 1/100
I hiked out a bit and found that there were about 20 goats in the area.
I knew that I needed to reduce the ammount of space between me and the goats, in order to get great photographs.
But these are really wild animals. And they live in really tough terrain. Most of it you need to be an expert rock climber to get into.
I found a few goats that were working their way towards some green, open, brushy, ground.
I figured if I could get in there before them and get set up I would be able to get some good shots.
It was a steep section of ground, and believe it or not, the tripod was level when I took these shots.
ISO 400 shutter 1/80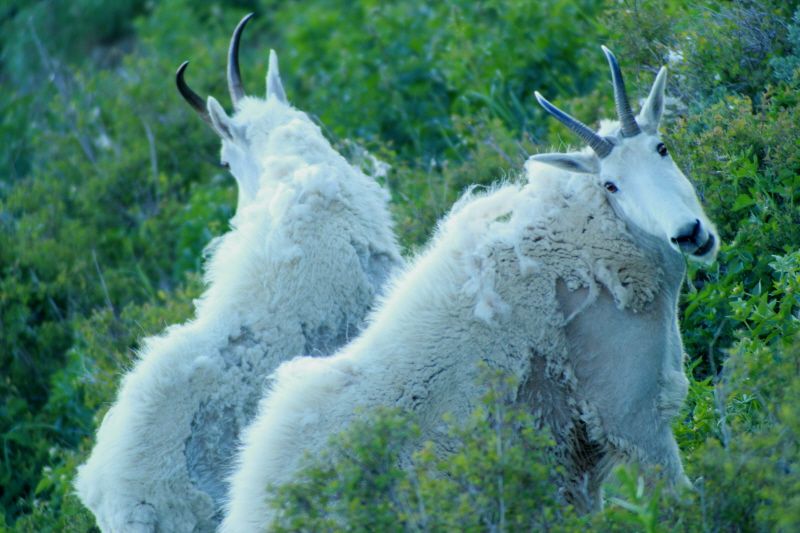 ISO 400 shutter 1/50
ISO 400 shutter 1/40
As you can see, they are shedding their winter coats. The thick brush strips it off their sides as they feed along.
Now, for my testament to digiscoping. These are wild goats. They are hunted by humans, and are prized as a very rare trophy. In the state that I live in, the opportunity to hunt for them is "once in a lifetime". They dont really just let you walk up on them and take photos.
If you want to get some good pictures you have to put in some effort. Possibly a lot of effort, depending on your skill and expirience.
With a standard telephoto zoom lens that was say..... 400 mm. I would have had to try and get a lot closer than I did. The TLS APO on the ATX 95 mm scope has a focal lenth of more than 900 mm, when on 30X.
Turn it up to 70X and you jump way up in focal length. This is why digiscoping appeals to me.
Where I live, there is all manner of dangerous game and difficult to get close to wildlife. I tried modern photography equipment, but just couldnt spend $15,000.00 on a 800 mm, super telephoto zoom camera lens. I would love to be able to, but the wife would kill me. I can buy a car with that kind of money.
Now, I am already out there with spotting scopes and binoculars. The ability to buy a very high quality spotting scope, and use it as a super telephoto lens gives me the ability to get the pictures I want without having to get too close to a black bear.
Its not easy, its not cheap. But its a compromise that works, and if you practice, it can work well.
Now, I also shot a little video while I was up there. 
I learned that even with a carbon fiber tripod you can't adjust your scope at that kind of magnification without getting some camera wobble and vibration, as you will see.
I had to pan the scope at one point and when I touch the scope, it shakes.
http://www.youtube.com/watch?v=KtE4sMdSOck
The thing that I did like about this was that I could use the geared head to move the tripod without any drift or sag. It just followed the animals, when I was done adjusting, it stayed exactlt where I wanted it. I didnt have to re adjust it.
Anyways, I hope you enjoy this one. I really did.