Last night, at 2:30 am, yes, 2:30 in the middle of the night, I woke up to the sound of Great horned owls calling back and forth.
Well, I wasn't going to be getting any sleep, so I decided to go out and take a look. See if I could find them.
I knew they would be close because they were loud.
About 60 feet, or 18 meters outside my bedroom window there was an owl perched on a telephone pole.
I guess you get lucky sometimes.
The best part....... moonlight. Plenty of it. 
The hardest part is getting focused. I just try to get the outline of the silhouette as sharp as I can. 
I tried the ISO set at 1800 with the shutter on bulb, holding it open for 6 seconds.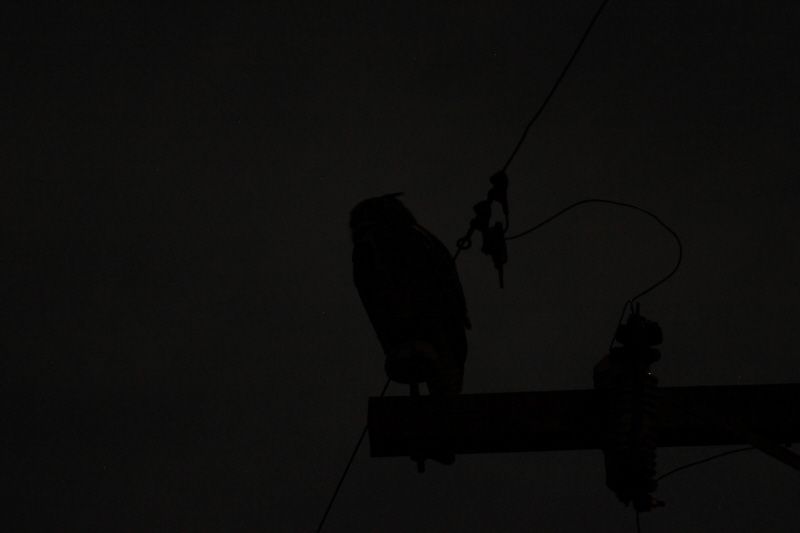 Nope, I guess there is not THAT much moonlight.
I jumped the ISO to 3200, held the shutter open for another 6 seconds.
Hey, thats getting better, and there is not that much noise.
So, I jumped the ISO to 6400 and held the shutter open for 7 seconds.
Ah, the sweet spot. Now that it was dialed in, it was time to take some pics.
I took 30 pictures with this setting. Only 4 of them worked out.
Why? because with a seven second shutter, if the owl moves, you get an owl with multiple ghost heads and blurred images. 
Seven seconds doesn't sound like a long time, until you stand there with your finger on the button watching the counter climb. You say a lot of little prayers "don't move little owl. just give me a few more seconds...."
I am not sure if those dots that look like water spots are stars or if they are noise. 
Usually noise comes in in red and blue specs, and they are smaller. 
I first thought that they were water spots on my lens. But they were not. 
So, that's that. Just try and go back to sleep after that!
There was no sleeping, so I went inside, woke up my wife a daughter and we all went out and walked down the street, looking for owls.
There were four calling, one was just down the road.
It was the only time I didn't mind being woke up in the middle of the night.