I have been working on improving my long distance stuff. 
Its not working out very well. But I need to practice it. You just cant get everything up close all the time. 
You want to get the picture all the time. But, you cant control the circumstances. Especially with birds.
I went out looking for Short eared owls last night. 
I did find one. As usual with owls, it was late. 
This was my shooting conditions.
If you look close, there is a fenceline that runs donw the middle of that field. There is one in the foreground, keeping me from getting to the owl.
On the right hand side, way out past the yellow grass is an owl sitting on a fence post.
You can't see it, because its very far away and hidden in the darkness.
When I arrived, the sun was setting, but there was that very orange light, the kind you get as the sun is sitting right on the horizon.
My settings for this picture were 40X magnification, ISO 400, shutter speed 1/5. 
Not my best picture, but you can identify the owl without any problem. 
If you take a good look at the background, you can see the heat waves were terrible. Even at dusk, the camera caught the shimmer.
Luckily, the owl was inside the range where the heat waves would have destroyed any detail. 
The sun went all the way down, there was no light left. 
I jumped the ISO to 3200, but I could see the noise on the screen. I dropped the ISO to 800 and it looked ok.
I took a couple more pics, but they came out like this.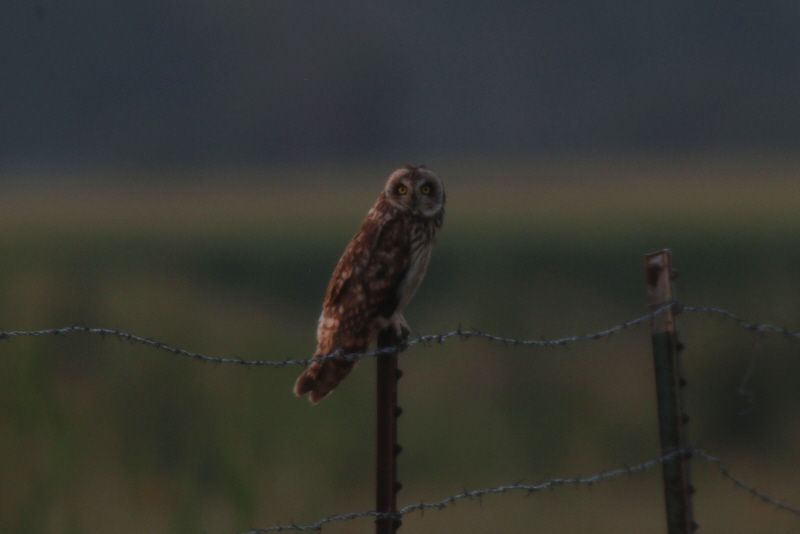 So, I decided that there was just not enough light to work at that distance. I was done for the evening.